Description
Engineered to Last
Heavy Duty 4R100 for the 7.3L Powerstroke
Designed for demanding conditions
Improved Performance at Affordable Pricing
Eliminates sloppy shifting
Transmissions usually in stock and ready to ship – short lead times if not
Short Lead Times on custom builds
Each Unit 100% Dyno Tested – NO DOAs
Built in the USA
---
1999-2003 Ford 4R100 F250 – F550 and Excursion 7.3L Heavy Duty Diesel Transmissions:
NO PTO OPTIONS AT THIS TIME. Please note: If you have a PTO transmission, you must put a PTO transmission back in.

E4OD, 4R100 Gas, and all Van (E350-E450) Transmissions built upon request. Call for information and pricing.

Several years in the making.
After purchasing Factory Tech Transmissions in April of 2012, we spent the last couple years setting up the lathes and mills to cut special parts, installing blast cabinets, paint booths, and our state of the art $250,000 dynamometer powered by BlueReach Automation. We can duplicate actual driving and load conditions in a truck, including all upshifts and downshifts.
Benefits:
Designed for towing performance.
Increased power transfer to the rear wheels
Improved shift feel
More durable than OEM.
Clutch material designed to handle extended and elevated temperatures without burning.
Standard Specifications in every transmission:
Direct and Forward clutches built with 120% of OEM clutch surface area.
Coast Clutch upgraded with 200% of OEM clutch surface area, custom spiral snap ring, and fully cut snap ring groove to hold up to exhaust brakes.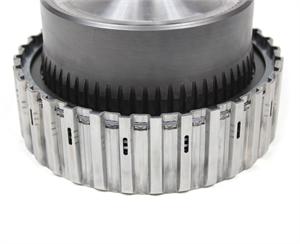 Overdrive built with 133% of OEM clutch surface area to hold up to towing in OD.
Intermediate clutches built with 133% of OEM clutch surface area.
Pump modified for increased line pressure
Spiral snap ring over center support.
45 element intermediate sprag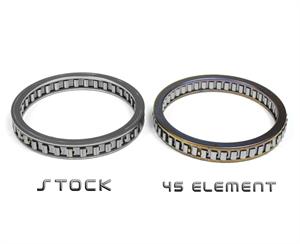 Case to center support sealed to prevent internal leakage
All steel planetary gears.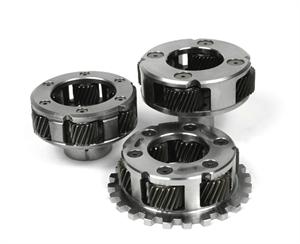 Every single clutch pack is measured and set to exact clearances- every unit within .003″
Torrington bearings throughout.
High Energy 850° frictions in all forward gears (including overdrive) – no 4R100 has ever had this. A DieselSite exclusive!
Full thickness steels for maximum heat transfer from clutches
Every remanufactured part is run through our de-burring machine.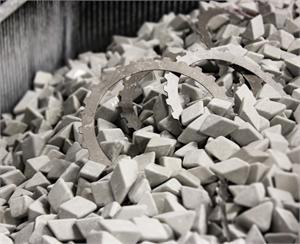 New Output Speed Sensor
New Transmission Speed Sensor
New Transmission Range Sensor
New thermal bypass valve
Custom In-house built valve body for shorter shift duration – firmer shifts and longer clutch life.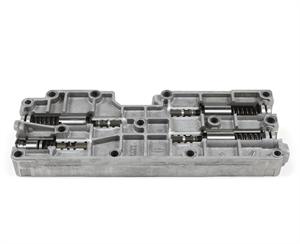 We have a transmission hydraulic circuit pressure test machine to insure no internal leakage occurs.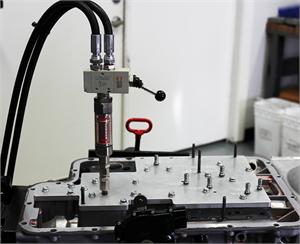 Every Unit fully tested in our own Transmission Dynamometer – No DOA units leave here!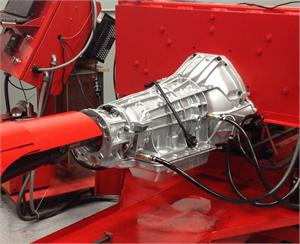 ……Many more modifications we do to improve performance and reliability
Shipping based on your location. If you need liftgate service, you will need to specify this and be aware that there is a 100.00 additional charge for this service – each time the lift gate is needed. If you need a lift gate for delivery and pick-up, the additional shipping cost will be 200.00. We will handle all the shipping arrangements getting the transmission to you in a shipping container and arrange the pick-up of your core when you are ready. So, this shipping cost is all inclusive (other than liftgate if needed) to cover shipping to you and the shipping to get the core back to us.
Core Charge. The transmission is shipped to you in a molded shipping container. We must get this case back with your transmission core. If you send back your core without the case, you will only get 1000.00 of your core fee returned. The case has a 250.00 core fee on it. If you ordered a TC and do not send your tc core back with your transmission, there will be another 50.00 deducted.

Custom Tuning Notes: Ask your tuner to leave the line pressures set at stock levels. Increasing line pressures electronically will only cause very harsh shifts.
Options for custom builds include:
MagHytec Deep Transmission Pan
300M Advanced Alloy Billet Input Shaft
300M Advanced Alloy Billet Intermediate Shaft
300M Advanced Alloy Billet Output Shaft
Single Sided Intermediate Clutch Pack- Designed for high rpms/ high hp drag racing applications. This is a must for Ford Lightning owners!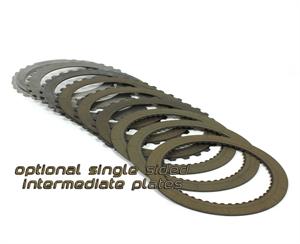 E4OD, 4R100 Gas, and all Van (E350-E450) Transmissions built upon request. Call for information and pricing.