DieselSite Billet Wicked Wheel 04.5-07 Powerstroke 6.0L GT37
Free UPS 2nd Day Air, just select the shipping as Free UPS Ground and we will upgrade it for you!
Before Ordering: When turbo re manufacturing facilities rebuild the 05-07 turbos, they almost always cut the compressor cover to clean up damages and scratches and then install 03 compressor wheels. This is a VERY common practice. Even turbos bought from Ford for an 05-07 truck will most likely have an 03 wheel installed. If your turbo has ever been out of the truck for repair, or you bought your truck used and don't know the history, you must measure the inducer of the compressor wheel before ordering. The 03 style wheel measures about 59mm and the 05 style measures about 56mm.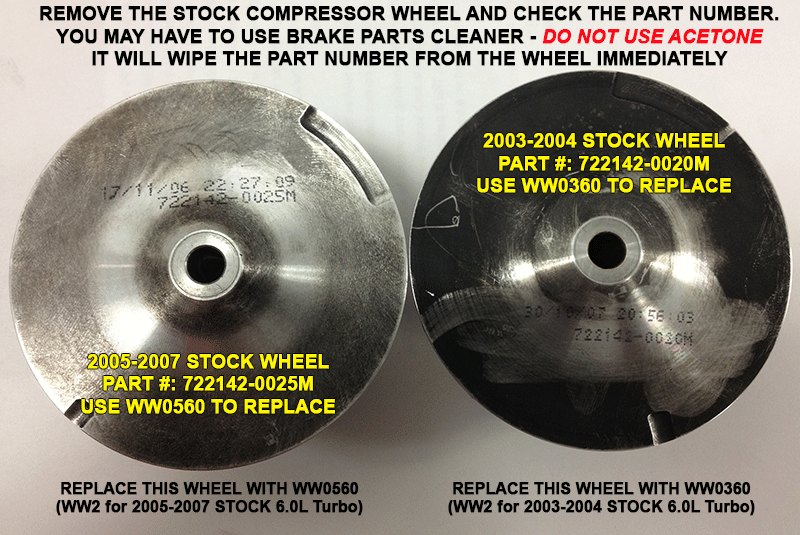 ****If you do not have access to a caliper or micrometer, the part number of the OEM wheel is printed onto the back of the wheel. Remove the wheel and look for the part number. You may need to use brake parts cleaner to clean off any oil to read it. Do not use anything other than brake parts cleaner. Acetone or similar cleaners will remove the part number. The '03 wheel part number is 722142-0020M. The '05 wheel part number is 722142-0025M.

DieselSite Billet Wicked Wheel for the 2004.5 - 2007 6.0L - tuned. 2004.5 6.0L 155cc injectors (stock nozzles). Stock turbo. Tuning set up to control max drive pressures, No changes other than wheel change.

Expect faster spool-ups, more response, more power!
60hp at 2120 rpms! at only 30lbs of boost.
Click To Enlarge
Item #: WW0560
Manufacturer: DieselSite
Manufacturer's Product Number: WW0560